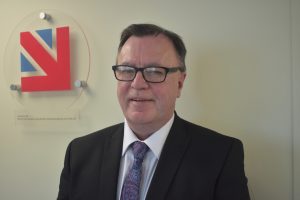 We are pleased to announce that Bill McKeown has joined Wrights Plastics as Industrial Business Executive.
Bill has huge experience within the sector and will join our expanding Industrial arm to support current clients, develop new business and grow our product and service offering.
Prior to joining us Bill spent 12 years as Business Manager at Bridgewood, the Hessle-based thermoforming specialists that closed after a catastrophic factory fire in 2021.
In fact Bill had spent over a quarter of a century (sorry Bill) on the same site as his earlier career had been with Thompson Plastics Group, who operated in the same premises until 2009 – although his roles saw extensive travelling and that will continue in his new position.
Having developed an extensive knowledge of thermoforming and vacuum forming processes since his first job in the industry in 1988, Bill has particular expertise in the leisure vehicle and automotive sectors, a natural fit with our growing automotive customer base that includes Jaguar Land Rover and the Morgan Motor Company, as well as recent projects for next generation e-vehicle and autonomous driverless vehicles sectors.
Bill came through the ranks at Thompson Plastics. Joining as a Production Manager, he was appointed Director at Borderfoam, Thompson's moulded Polyurethane products brand before heading back to Thompson's Leisure Products division in a commercial role he continued with great success at Bridgewood.
With his experience, market insight and industry knowledge Bill is a welcome addition to the team and a sign of our continued aim to grow the business further which has also seen us add to our manufacturing and admin teams in June.
To discuss your next industrial or automotive parts, product or component project call Bill on 0121 580 3080