As a leading provider of CNC router services Wrights Plastics has one of the largest suites of high quality CNC routers and millers. That gives us the capacity to tackle a range of projects simultaneously.
We added the Zund G3 to expand our overall capacity and increase our range of services and it has enabled us to deliver at even higher levels of quality and precision, whilst supporting our long term aims to reduce our impact on the environment.
The overall productivity of the G3 cutting system is unrivalled, achieved through the use of intelligent control technology, robust machine components, and sophisticated cutting technology. All components are perfectly coordinated for fully integrated CNC routing.
Perfectly Coordinated For Faster CNC Routing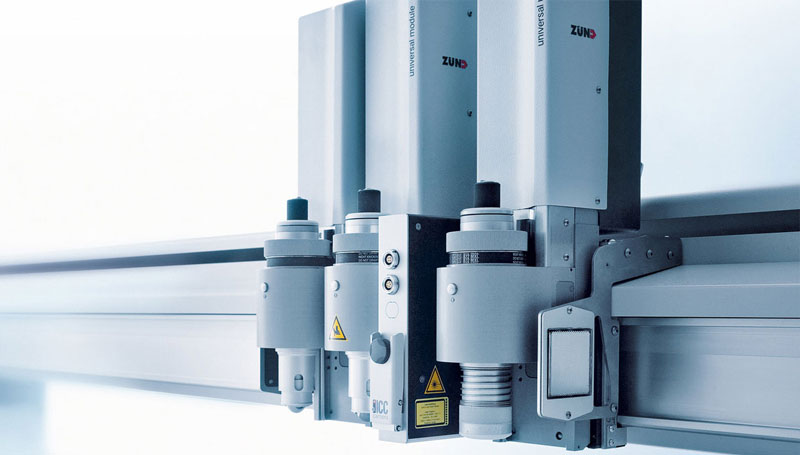 One of the key benefits to customers is Zund's distinctive 'truly unique' modular design that allow us to configure the required tooling in a few quick, easy steps. The resulting flexibility allows us to react instantaneously with modifications and upgrades to changes in production requirements, reducing production times and offering resultant cost-savings
All components are perfectly coordinated. Quick, precise, time-saving: The setup for knives, router bits, and creasing wheels occurs through a fully automatic initialization system. Manual adjustments for determining proper cutting depths are no longer necessary. The ITI Initialization System makes the process quick and precise.
The automatic router bit/tool changer ARC dramatically reduces set-up times and simplifies tool handling. The magazine can accommodate up to eight different cutting, polishing, or engraving bits. The bits needed for processing are automatically removed, clamped, initialized, and cleaned after each use. The ITI initialization system checks the zero point after each tool change, ensuring perfectly consistent routing depths.
Perhaps most importantly the design, flexibility and range of tooling means we can provide unbeatable quality and precision.
A more sustainable solution
We have an ongoing programme of investment in the latest kit, tech and software. As well as the benefits it brings to customers it also helps us put sustainability at the centre of the business future.
Features that increase speed, efficiency and accuracy of production reduce the amount of energy and waste used to complete projects. Features such as Zund's 'no idle time in tandem operations' helps reduce carbon footprint of each project.
Zund "strive to limit the environmental impact of our activities and use our resources sparingly. We try to balance economic, environmental and social responsibilities in all activities" and that matches our commitment to operating in a more sustainable way.