Digital technology is playing its part in combating the spread of Covid19 and digital screens are part of the story.
Easing lockdown restriction has seen non-essential retail, gyms, salons fully re-open and hospitality venues partially re-open. Reports suggest a 200% increase in footfall in the first week. Many businesses who had planned their re-opening have had to re-think in the light of this unexpected demand.
They need to balance creating customer confidence in their location with the need to maximise revenue where numbers are restricted due to social distancing. Many businesses also need to take into account their customers increase exposure to internet shopping.
Covid 19 digital screens
So how can digital screens help achieve these goals.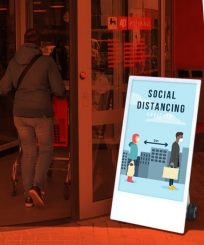 Firstly there are obvious Covid19-related digital screen products aimed at offering protection at any location. These include a contactless hand sanitiser stand incorporating a network digital screen aimed at delivering key safety, brand and sales information as well as sanitiser at point of entry and throughout the location. Likewise a Facial Recognition Thermometer Display is truly a full turnkey system which incorporates facial recognition, contactless temperature detection and control software.
More generally digital screens deliver dynamically. Visitors are more engaged with digital screens that printed signs and posters. So the screens can not only make sure your messages are read, but they can also easily update those messages. The screens can incorporate safety messages to build customer confidence, but they can also help you to return to profitability by promoting goods and services.
Covid1 9 digital screens from Mid West Displays
With confidence still an issue for most consumers, digital screens can also reduce the need for P2P engagement and increase the opportunities for contactless actions. Multi touch screens offer people the chance to browse, order, pay, book in and book up, confirm attendance and many other actions contactlessly thus increasing their confidence AND allowing your staff to manage customer safety and sales.
Our brand Mid West Displays offer a range of digital advertising screens that can help lots of businesses and organisations deliver engaging safety messaging as well as build back their business after lockdown. They can offer expert advice to help customers choose the right screens for their needs, location and budget. They can help make the most of great features such as template creation, scheduling and off site updating
And ALL of the products in the Mid West Displays digital screen range come with
FREE 3yr warranty
FREE lifetime tech support
Each screen is fully tested before delivery and shipped from the UK for delivery within 3 days.