Putting a digital display screen in the window of your shop, salon, gym or showroom etc can be an effective way to market to passers by and drive traffic through the front doors. But using that technology has tended to come with a compromise. The screens look great from the street, but inside the building, staff and visitors are looking at a flat, dark slab of metal or plastic — the back end of a display or its enclosure.
Now there is a brilliant solution with the Ultra High Brightness double sided hanging digital screen. Not only do you get two screens to deliver engaging content – but there is the option to show different content on each screen to maximise the impact of your instore digital marketing.
Winning the ambient light battle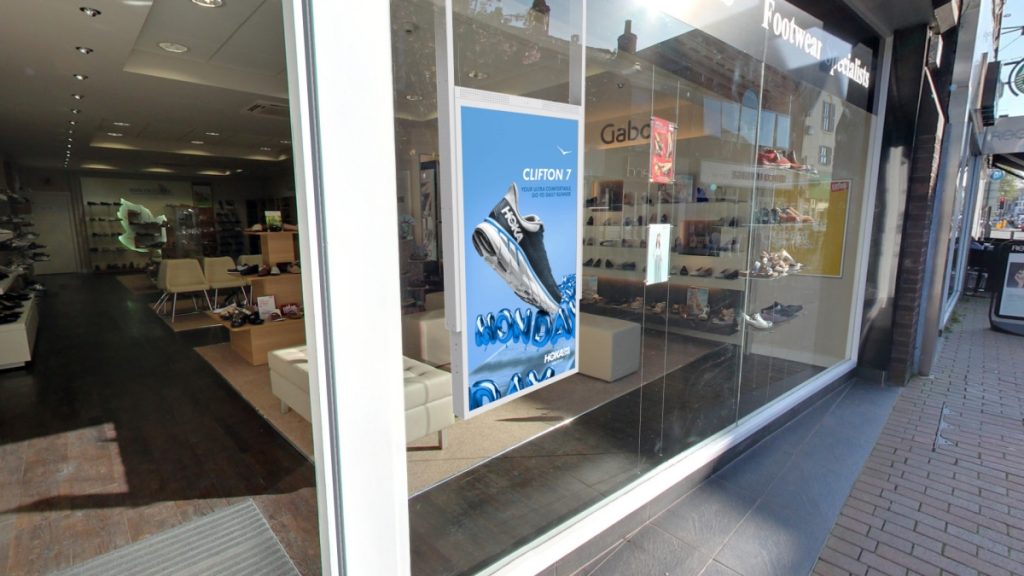 Screens in shop and office windows often disappoint their owners because they employ TVs or commercial monitors that are not engineered to the task. These Ultra High Brightness window facing screen features a 3500cd/m2 monitor that is designed to deliver readable content even direct mid afternoon sunlight.
Offices and shops have a lot of ambient lighting, and windows also let in a lot of natural light. So while the inside-facing screen does not need to be anywhere near as bright as the one facing out, it would be a mistake to assume a regular display with conventional brightness levels will do the job. To ensure visuals pop through any inside lighting conditions, the inside-facing screen of the dual display has a 1000cd/m2 monitor
Packed With Brilliant Features
The monitors play their part but without compelling content then the impact of their use will be limited. Luckily these digital display screens come complete with lots of features to help any business max the impact of their digital marketing.
Firstly the screen looks good, perfectly complementing any designer interior. The screens conductivity and temperature control features help make the screen a sustainable choice that minimises the amount of energy used and is designed for extensive product lifecycle even at constant use.
Speakers allow you to add a relevant soundtrack to suit your venue.
An integrated Android Media Player means content can be uploaded via a USB stick. Upgrade to a Network CMS subscription package unleashes lots more benefits including
marketing templates
apps to add dynamic content
user management settings to enable the team to contribute
remote updating – perfect for those still working from home
scheduling software to target the right audience and the right time.
It has never been more important to win customers back to the High Street and these Ultra High Brightness double sided hanging digital screens are one way to achieve this.