In any retail location POS display is important in adding sales and building long term customer loyalty. Here are some easy to follow tips to help you get more sales from POS display.
Positioning
Choosing the right location for the POS display is essential. There is the obvious choice of putting it in the section or department that it is directly related to the product you are promoting. So a display of a new brand range of crisps goes where the rest of the crisps are displayed. But you can also create connections in a customer's mind that will help you cross sell. So the POS display for the crisps might end up among the display of beers or prepared sandwiches.
Messaging
Sales from POS display will definitely be increased if the messaging is clear. Displaying the products alone will never be enough – you need reasons why the customer needs to buy this product from your store NOW. Trigger points such as FOMO, limited stock, lowest price (or planned price increase), exclusivity to your store, latest product need to be communicated to maximise the effectiveness of your POS.
More tip on increasing sales from POS display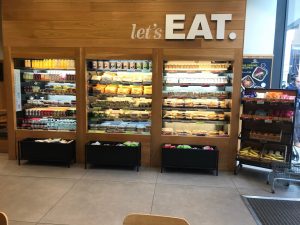 Updating
In a busy retail environment POS displays soon get ignored so it is important that you regularly rethink, reconfigure and replan your POS displays. Don't focus solely on the promoted products when developing POS retail displays. Seasonal sales events (Christmas, Back to School), local events and changing consumer trends can all – relatively easily – be included as part of your shop POS
Planning
You'll get more sales from POS display if you plan at all levels. On a macro level, create a calendar of POS display that covers all seasonal events, regular local events, planned product launches and instore promotions. Leave some room for the unexpected events – heatwaves or cold snaps etc – that be leveraged to create more sales.
On a micro level plan the outcome of all POS displays, their look and the associated messaging. You'll know in advance what signage, props or lighting you'll need to create an effective display so putting it together will be a swift and painless activity.
We've been designing, making and installing effective POS retail display solutions since 1969 – for help with your project call us today on 0121 580 3080