POS display allows retailers to increase the impact of visual merchandising.
Using a readily available range of off-the-shelf POS display products or commissioning bespoke POS, retailers can maximise the use of space within the store – adding branding, price info and product info at the most important stage of the buying process.
In the world of retail, shelf space comes at a premium – and point of sale stands such as free-standing display units (FSDUs) counter top units (CTUs) and dump bins are ideal for maximising a store's merchandising potential. POS display stands are ideal for maximising the use of available space on the shop floor – and more products means more revenue, as bulk-buys and impulse purchases are added to every basket.
As well as introducing more shelf space, POS and POP displays can be used to draw attention to your current offering – introducing visual merchandising into the mix. Hanging signs, display cubes, posters and window clings can all be used to attract the attention of passers-by and highlight key promotions and products on offer.
Choosing POS display solutions to boost sales
There are a wide choice of POS display products to choose from and it likely that any successful store, showroom, salon or other retail environment will have a mix of products that are used sometime continually, sometimes seasonally or sometimes to promote new lines or clearance events.
FSDU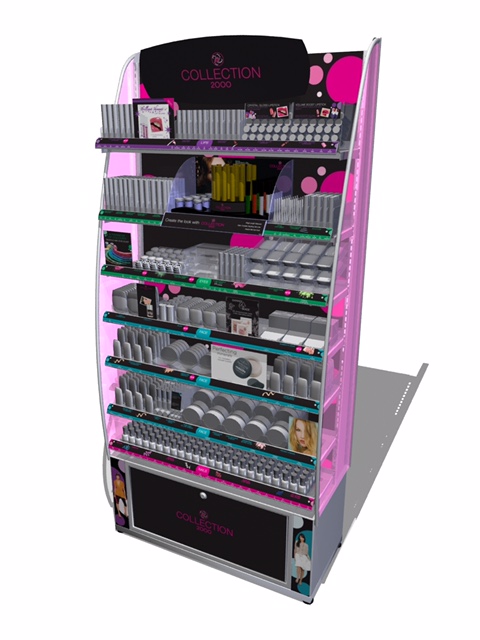 These versatile shelving units allow you to catch the customer's eye and expand your shelf space in one go. Perfect for retail hotspots or queuing systems, they're ideal for putting large amounts of stock in the customer's line of sight.
In survey conducted by POPAI, 90% of consumers saw a wellbeing display unit displayed in Superdrug compared to the 80% of consumers who saw a one in Boots.
Dumpbins
A great way to drive impulse buys or clearance items dump bins often work on the 'pile 'em high, sell 'em fast principle' and can be used across the store to boost sales. They are available in a range of sizes, even down to counter top versions.
Signage
Effective signage is important for any retailer. Not only can it move customers around the store to make the most of your floor space, it also offers the chance to communicate with customers – supporting your VM activity. Done well it is also a way to support brand, too.