Our latest investment in cutting-edge tech has helped us make a massive upgrade to our printing capability.
Described by its makers as a 'productivity powerhouse' the Océ Arizona 6170 delivers outstanding productivity and print quality across a massive range of materials.
Commercial Director Andy Watkins said this week "We are pleased to add the 6170 to our suite of printers.  3x faster than anything else in the range, it is packed with lots of brilliant features but for our customers the benefits are simple – we can now print faster, more productively and to a higher quality, delivering near-photographic image quality and perfect text even for the small print."
Andy continued "Another advantage for customers is the range of materials we can now print on. The clever vacuum function on the printer holds rigid and flexible material firmly in place. As well as our usual plastic-based material we'll be printing on MDF, ACB, textiles, board, glass – even concrete. In fact I'd be happy for anyone to challenge us to print on almost any material.
"All those substrates mean we can now print everything from construction hoardings and billboards to fine art graphics."
We can now offer more, more, more for our customers
More Speed – Print speeds of up to 155sqm/hr make this x3 faster than anything else in the range & means we can complete projects even faster without loss of print quality.
More Productivity – with a host of features (included automated maintenance) to improve productivity, we can turn jobs around faster than ever – helping you maximise 'just in time' cost efficiencies or making sure that last minute rush job is completed to the highest standard.
More Quality – VariaDotTM print quality and 6-42 picolitres result in near-photographic image quality and perfect text even for the small print.
More Materials –The high flow vacuum 2.5 x 3.5m true flatbed architecture holds rigid and flexible material perfectly in place making it ideal for a huge range of substrates including porous, wrapped rigid and heavy media. This is the perfect printer for non-square material, overprinting and variable data printing
More Sustainable – Drying is via the next generation UV curing system which runs 30% cooler.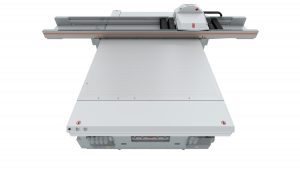 A productivity powerhouse for rigid and flexible media printing the Océ Arizona 6170 is the printer of choice for:
Hoardings for construction sites and building projects
Wall panels, wall coverings and wallpaper for retail, restaurants and domestic use
Banners, billboards and street furniture
Fleet graphics
Retail POS / POP, window graphics
External and internal signage
Fine art printing, custom photo frames, wall stickers, and personalised interior accessories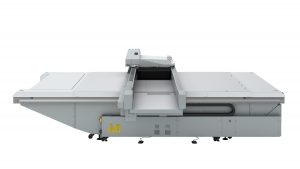 Unbeatable Printing Capability
The Océ Arizona 6170 is just the latest addition to our suite of sector-leading UV flatbed and solvent presses. We continually invest in the latest kit and technology to help us increase productivity, improve quality and reduce our impact on the environment.
To take the latest addition to our range for a test drive to discover how it can power your next print project call James Ivison on 07547 956608