Bespoke Sneeze Screens and Sneeze Guards
Sneeze Screen and Sneeze Guard Solutions
Our expertise in acrylic fabrication ensured we became the go-to brand for the manufacture of high quality acrylic sneeze guards.
We work directly for clients or act as OEM for retail and manufacturing agencies. Our hygiene screens can be seen in shops, supermarkets, warehouses & distribution centres, office and workplaces, schools and many other locations.
We can also offer a complete end-to-end service, designing cost-effective screens to suit individual requirements and managing collation, storage and distribution to sites in UK, Europe and beyond.
Value engineered bespoke screens can be made quickly and cost-effectively thanks to our large manufacturing capacity. Alternatively we offer a large standard range of hygiene screens that can ordered online.
Over 50,000 Sneeze Screens Manufactured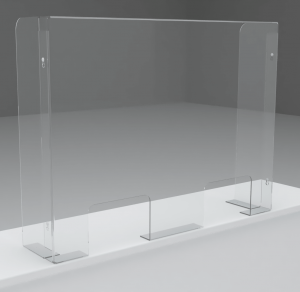 Since March 2020 we have manufactured and supplied over 50000 sneeze guards and protective screens.
Despite increased worldwide demand for acrylic, we have invested over £1m in high quality plastics to ensure continuity of supply. Clients value our applications expertise and material credibility. With a huge range of equipment we can handle high volume projects as well as meet fast turnarounds if required.
We have completed 1000s of projects – from one-off jobs to large multi-site projects.
BEWARE CHEAP IMITATIONS. There are many companies selling similar products. It is important that you invest in quality products for effective protection for staff, students, customers etc. It is important that you buy durable, safe and well-constructed products.  Few other sellers will have our 50 year acrylic manufacturing experience. Few will be able to provide products of this quality.
Book A Free Site Survey Today
We are able to offer a free site survey. Our team will be able to help you decide the style and number of screens required to maximise protection for staff, customers and visitors.
We will provide a full breakdown of costs and timescales.
The survey is open to retailers, non-retail businesses, educational organisations, leisure and gyms etc.
To book your FREE site survey complete the form opposite or call James Ivison on 0121 580 3080 to discuss your needs.
What Is A Sneeze Screen?
A sneeze screen or sneeze guard is a protective barrier aimed a preventing the spread of bacteria or virus. They are usually used to create a barrier between people to help stop the spread of air borne spit or spray, and are found in any location where people from separate households or bubble interact, typically shops, offices, schools & educational centres, warehouses & distribution centres, community centres, libraries etc.
What Are Sneeze Screens Made From?
As it is important to see the person on the other side of the barrier, sneeze screens have typically been made from clear material. Acrylic material is the most popular choice (often known by brand names such as Perspex® or Plexi Glass) as it has the advantage of
being clearer than glass,
available in a range of thicknesses (to suit requirements and budgets)
safe (virtually shatterproof)
lightweight
inexpensive
easy to clean
Where Should I Use A Sneeze Screen?
Counters, cash desk and till areas
As desk or workstation screens
On reception & waiting room desks
In catering and hospitality venues
In schools and educational locations
Nail bars and beauty salons
Factories, distribution centres etc
Leisure venues such as cinemas, theatres, gyms etc
Do Sneeze Screens Work?
The Centres for Disease Control and Prevention recommend the installation of physical barriers such as hygiene screens to "mitigate transmission of the virus that causes COVID-19".