Plastic Forming and Fabrication
We are one of the UK's leading plastic forming and plastic fabrication companies.
Our reputation for quality, service and price has ensured we have continued to grow our business since we were established in 1969.  Our almost fifty years plastic forming and fabrication experience will help turn your requirement into a completed project.
All forming and fabrication is carried out in house at our 46,000 square ft production unit.
Experienced engineering staff, a dedicated CAD team and the very latest software and machinery ensure we can fabricate to the very highest standard.
Flexible working practices and processes means that we can handle fast turnarounds and short lead times when required.
Dedicated account managers deliver projects on time and on budget.
Our finished products are used by clients including Jaguar Land Rover, Caterpillar, JCB, TfL, NHS and many others.
Complete plastic forming and fabrication services
Our plastic fabrication / plastic forming services include:
We can manage the whole production process from design to delivery, if required.  We provide in-house branding, printing and signage capability to add the finishing touches, packaging and labelling to your moulding and/or fabrication project.
Specialist services include: industrial moulding; 3, 4 & 5 axis CNC machining; thermoplastic moulding; drape moulding, and blow moulding.
Complete The Quick Quote Enquiry Form
White label service
We are happy to work as a sub-contractor across many projects and have experience working as a 'silent partner' for O.E.Ms, manufacturers, design and retail agencies, shopfitters and many others. We don't subcontract fabrication services so we are able to keep complete control of the manufacturing process. Relax, you – and your clients – are in safe, expert hands.
Investment in the latest plastic fabrication technology
We have a rolling programme of investment that has seen us introduce some leading edge cutting, moulding and machining technology – often for the first time in the UK. Our investment helps us remain competitive in a global market and supports UK jobs. For customers the benefits are clear: increased workflow and decreased wastage, reduced production times, improved quality, and extend fabrication services across a range of plastics and substrates.
Responsible, sustainable and ethical
We take our commitment to the environment and to ethical trading seriously. For details of our ISO 9001 accreditation, environmental policy and supply chain credentials go here.
Find out more about our recent acrylic fabrication projects
Learn more about plastic forming in these updates & articles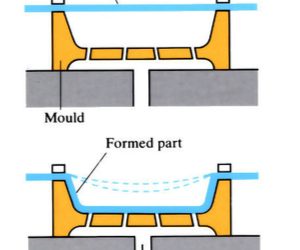 Plastic forming is the manipulation of plastic to create products, components or parts for larger projects through the application of heat. Techniques include the use of gravity, vacuums, compression and centripetal force.
read more