Sneeze Screens Free Site Survey
Over 50,000 Sneeze Screens Manufactured. Book Your Free Site Survey Today
We are able to offer a free site survey for qualifying businesses. Our team will be able to help you decide the style and number of screens required to maximise protection for staff, customers and visitors.
We will provide a full breakdown of costs and timescales.
The survey is open to retailers, non-retail businesses, educational organisations, leisure and gyms etc.
Read more about our hygiene screens solutions here
To book your FREE site survey complete the form below or call 0121 580 3080 to discuss your needs.
Sneeze Screen Solutions For Your Organisation
As the UK's leading acrylic fabricator we have used our 50 years' experience to develop effective hygiene screen solutions for organisations across UK, Europe and beyond.
You'll find our acrylic sneeze guards in
shops & supermarkets
offices & workplaces
schools & universities
gyms and leisure venue
warehouses and distribution centres
hospitality and entertainment venues
We have supplied screens to organisations in the UK, Europe and beyond. In fact since March 2020 we have sold over 50000 screens.
Why Choose Sneeze Screens From Wrights Plastics?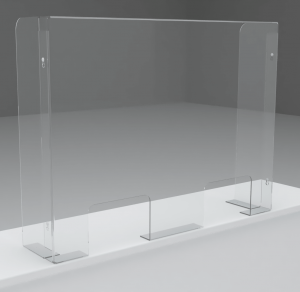 We are already the #1 choice for 1000s of customers who value our expertise, service and value.
We have invested over £1m in high quality material, despite increased demand for such plastics worldwide. Our commitment ensures we can offer continuity of supply for all our customers.  We can undertake small one-off jobs and large multi-site projects as well as manufacturing a range of off-the-shelf standard sneeze screens.
All our screens are made by us in the UK.
Bespoke Sneeze Guards
We are able to manufacture bespoke sneeze guards that are tailored to your business and location. Our design team can develop one-off products that maximise the protection of staff, visitors, students and customers in your locations. And, with a huge range of cutting-edge kit, we can manufacture the items swiftly and cost-effectively. Using the best quality material the screens are sturdy enough to be used even in the busiest locations, and are easy to clean and maintain.
Our logistics team can also arrange to collate, warehouse and distribute to site if required.
We work directly with clients or work as OEM for retail design agenices and manufacturing agencies.
Book your FREE site survey today or call us on 0121 580 3080 to discuss your requirements.
You can read even more about our sneeze screen solutions here.
Find our more about our project for The Arcadia Group