Spectacular three storey wine towers for Radisson
Wrights Plastics were instrumental in the design and fabrication of the spectacular three storey wine towers that wow visitors at prestige Radisson Hotels in London Stansted and Zurich.
The stunning wine towers store 1000s of bottles of wine and a crew of acrobatic 'angels' scale the towers at the diner's request. These centrepieces attract visitors for around the world little knowing that much of the breathtaking installation was manufactured by us in West Bromwich.
We were approached at an early stage by Edwin Shirley Staging to play a major role in this multi-million £ project, contributing invaluable engineering and design advice, based on over forty years' experience in high quality plastic fabrication. Design and building the pyramid roof and base was a challenge but the result was spectacular – creating an unforgettable brand experience.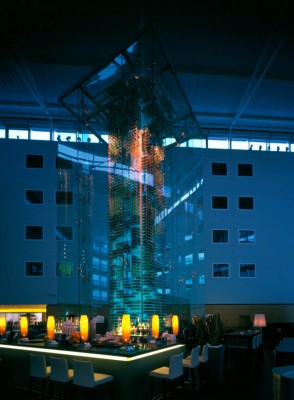 These centrepieces attract visitors for around the world little knowing that much of the breathtaking installation was manufactured by us in West Bromwich
We were approached at an early stage to play a major role in this multi-million £ project, contributing invaluable engineering and design advice