Wrights Plastics has now manufactured over 50000 acrylic sneeze screens and screen guards since March.
Working directly for clients or providing OEM services for agencies our hygiene screens can now be found in shops, supermarkets, banks, warehouses and distribution centres, offices and many other locations.
We have provided bespoke design and manufacturing services for many clients, developing products to suit their individual requirements. Projects have ranged from single one-off jobs to large multi-site projects that has made use of our established collation, warehousing and distribution services.
One of the largest projects saw us make and deliver over 1500 screens for The Arcadia Group.
Additional capacity was then developed to enable us to manufacture a range of off-the-shelf sneeze screens and screen guards, sold on the ecommerce website of our Wrights GPX brand.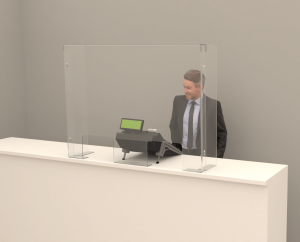 James Ivison, Senior Relationship Executive of Wrights Plastics Group, says "As a company, we can custom design sneeze screens to meet each client's specifications, in any size or quantity, with a fast turnaround time."
"We have the equipment and workforce to produce high-volume quantities of sneeze screens with just a short lead time to meet the demands of the client. Whether there are multiple locations or a single venue, we can meet their needs. Our team will work with the client to design sneeze screens in line with the requirements of their business."
"Business continues as usual for all our point of sale and retail displays! We supply high quality plastic solutions across all sectors of the retail and automotive market."
As a commitment to ensuring continuity of supply we invested over £1m to secure sufficient material to meet demand for the screens, in the face of growing international demand for these plastics.