Vacuum forming is a plastic forming process that can be used to manufacture a wide range of parts & products. Although a well-established plastic forming technique, it continues to develop today with increasingly sophisticated tech & software, clever design & concepts and more substrates all influencing the range of vacuum formed applications.
Let's take a look at some vacuum formed applications.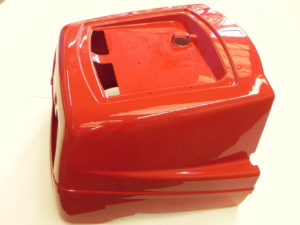 Agricultural / Gardening Sector:  seed trays, flower tubs and containers, machine parts, lawnmower enclosures and covers
Automotive Sector:  hub covers, storage racks and boxes; parts and components for 4 wheel drive and all-terrain vehicles; door Interiors, wind and rain deflectors; battery and electronic housing; windscreens and windows.
Building and Construction Sector:  Drainpipes and fittings, moulded features for ceilings, fireplaces, etc.
Boats and Yachting Sector: boat hulls, covers and hatches; electrical covers & dashboards
Electronics: equipment enclosures and boxes; component trays
Film & Media Industry: animated models; logos and signage; props for films and tv
Healthcare:  masks, prosthetics, cribs, dental castings, medical devices & implants
Home & Furniture: chair and seat backs, trays, storage items, plate and bowl racks, tables, stationery items.
IT: computer screen surrounds and screen protectors; keyboard covers; equipment covers
Machinery Manufacturers: guards and electrical enclosures.
Retail: Point of Sale retail display, Point of Purchase; merchandiser parts and components; food standards approved trays and containers
Product Development: Rapid prototyping and pre-production for testing and market research; small volume runs.

Signmaking: vacuum formed signs, fascias and lettering
Traffic Management: vacuum formed for parts for traffic lights and traffic management systems; enclosures and casing
The ability to manufacture any of the above will depend on the machine used as well as material used. Plastic forming can be achieved with a range of substrates. Always talk to a reputable plastic forming specialist to decide the feasibility of any project and for advice on suitable materials etc.