We are delighted to have designed and made a range of POS for the V Jewellery range from Laura Vann.
The acclaimed range, featured on Vogue's 'wish list', can be seen in a select choice of high-end retailers including Harvey Nichols, Parla and John Lewis, and there are plans to expand into more select retailers.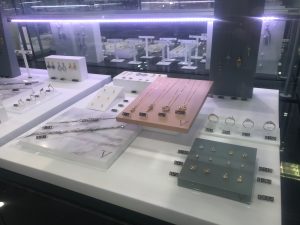 With an extensive experience of creating high-impact POS for leading jewellers, cosmetic and fashion brands we were delighted Laura chose us to help maximise her instore jewellery displays.
The POS display range was developed to complement Laura's 'vintage design with modern perspective' ethos with classic base boards, plinths and plaques in a selection of ontrend colours and finishes chosen to enhance the stunning beauty of Laura's range.
Each complete set comprised 12 units, all branded with the range's distinctive V logo.
Developing the POS display range involved many of our established inhouse services and processes including design, laser cutting, high quality printing, fabrication, cementing and diamond polishing.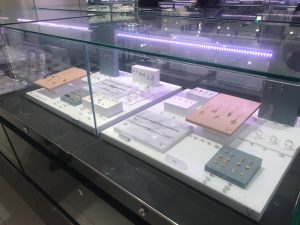 Laura's aim behind the brand is to provide high quality pieces made for longevity – and that is a philosophy we completely agree with.